Thursday, 17 March 2022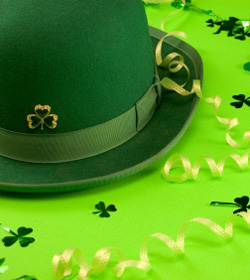 ☘️ A celebration of Irish heritage in Australia
St Patrick's Day provides an annual opportunity to appreciate the Irish culture and traditions in Australia. Irish music concerts, dancers, exhibitions, theatre performances and religious services are held throughout March each year. St Patrick's day is celebrated by wearing green,  eating green foods, and drinking popular Irish drinks – Guinness, Jameson Irish Whiskey or Baileys Irish Cream.
See below for a listing of Irish Pubs around Australia to celebrate St Patrick's Day.
☘️ St Patrick's Day Australia – Irish in Australia
In the 1830's approximately 25% of the population of Australia was born in Ireland. About 40,000 convicts were sent to Australia from Ireland as well as free Irish settlers immigrating This strong Irish connection means that up to 33% of Australians today have some sort of Irish ancestry.
☘️ What is a shamrock?
A type of clover with three leaves.
☘️ What is a Leprechaun?
A Leprechaun is a mischievous elf in Irish folklore and is believed to have a secret stash of treasure
---
☘️ The 2021 Sydney St Patrick's Day Parade
The Sydney St Patrick's Day Org Inc. is a not for profit organisation managed by a group of volunteers. It is an absolutely amazing fun filled day and to see Sydney celebrating its Irishness is like nothing else. From humble beginnings by a group of dedicated individuals over 30 years ago – this event has become a huge day for the Irish Community in NSW with many people only connecting to their heritage on this one day.
☘️ St Patrick Day Celebrations in Sydney
The Porterhouse
This cosy traditional Irish Pub will make you feel right at home regardless of where you come from.
☘️ Melbourne St Patrick Day Celebrations
The Irish
Seamus O'Tooles's Irish Pub located in Knox O-Zone Burwood Road Wantirna South.
☘️ Brisbane St Patrick Day Celebrations
Harrigan's Irish Pub
If you've ever been to Ireland, you will feel a sense of deja vu as soon as you walk into a Harrigan's Irish Pub.
The Irish Club
The only place to celebrate St Patrick's Day is at Brisbane's Original and Authentic Irish Club with a feast of events to satisfy the whole family
☘️ Perth – St Patrick Day Celebrations
Durty Nelly's Irish Pub
Enjoy a mixture of contemporary Irish dining, fine ales, lagers and stouts, live entertainment, a genuine Irish atmosphere and friendly service from Irish staff and people the world over. The Irish have always known that Irish Pubs allow people to relax and be themselves.
Murphy's Irish Pub
Located along the foreshore overlooking Manjar Bay, Murphy's Irish Pub offers the very best in Irish pub hospitality. With authentic Irish bric-a-brac, frosted glass and wooden bars it seems like a piece a small piece of Ireland has landed in Mandurah.
Paddy Malone's
A slice of Ireland comes to the North. Paddy Malone's brings the tastes of Ireland to Joondalup, providing a wide range of great