🐥 When is Easter 2022?
Good Friday, April 15, 2022
Easter Sunday, April 17, 2022
Easter Monday, April 18, 2022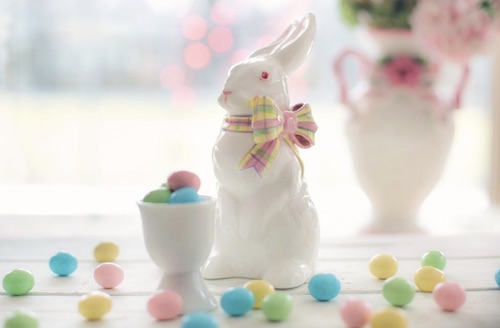 In Australia we have a public holiday on Good Friday and Easter Monday which provides families with the time to be together and do family activities. On Good Friday, every shop is closed and it is the only day of the year that newspapers are unavailable.
Many people celebrate Easter by attending Church on the Friday, Saturday night or Sunday over the Easter weekend. The focus of the weekend is on the death by crucifixion and re-birth of Jesus Christ. It is the most significant event on the Christian calendar.
🐥 Easter in Australia
🐥 Easter Calendar
The Easter Calendar includes the days of Easter and summarises the many festivals celebrated throughout the season.
There are many traditions around Easter. These vary from the Easter Bunny and Easter eggs to the eating of hot cross buns.
🐥 Easter Eggs
Easter eggs are enjoyed by most families and while the tradition has been around for many years, the commercialisation of Easter leads to the selling of many Easter eggs.
As all children are on holidays around Easter, decorating Easter eggs is an activity that all children love to be involved with. There are hundreds of ways to decorate Easter eggs and we provide you with the most popular
on this page.
🐥 Easter Bunny
So where does the Easter bunny fit in?. Easter bunny's are enjoyed by children and adults around the world. In Australia, the Easter bilby is also very popular and for many families they buy each other a bilby instead.
While Easter is primarily celebrated through the Church there are many traditions that are based around eating. We provide you with Easter recipes to use around Easter time so whether it be making Easter eggs or making a hot cross bun, you will know where to come.
🐥 Easter Festivals
Easter festivals are a traditional part of Easter in Australia. The main festival is the Sydney Royal Easter Show, but there are many more local ones to chose from.
Finally, one of the great things about Easter is listening to the stories from children. We provide you with a collection of Easter stories to read and invite readers or their children to add their story to the page.
Easter is wonderful time of year and we hope you all enjoy your Easter with your family and friends.
🐥 Easter – Decorating Your Home for Easter
Halloween and Christmas are not the only holidays that provide a great opportunity to decorate your home. You can liven up your home inside and out on Easter with all sorts of decorations.
Outdoors
While few people string lights up outdoors for Easter, why not greet your guests on this special day by putting up a string of lights on the front door in the shape of a colourful egg or bunny.
Don't forget to utilise those outdoor lights. They are the perfect place to hang a few Easter decorations. Whether it is stuffed bunnies, a wreath made of pine cone branches decorated with coloured eggshells or a motion activated toy, there are plenty of ideas that you and your family can use.
Indoors
If you have children who attend school, they will often make an Easter gift or bring home some work featuring an Easter theme. These should be openly displayed around the home. Sit down with your family and design a wall decoration in the shape of a giant egg from thin coloured plastic of the sort available at hobby sites. Display it proudly.
The coffee table is the perfect place for a bowl full of gingerbread cookies in the shape of a rabbit like Peter Cottontail and make Easter cards for each other and place them around the home.
Celebrate Easter with some fun in your house!
🐥 When is Easter ? Dates for the years ahead…
Easter 2022
Good Friday, April 15, 2022
Easter Sunday, April 17, 2022
Easter Monday, April 18, 2022
Easter 2023
Good Friday, April 7, 2023
Easter Sunday, April 9, 2023
Easter Monday, April 10, 2023