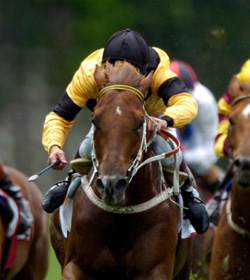 🐎 The Melbourne Cup is on Tuesday 2 November 2021
The Melbourne Cup is considered the most popular racing and social event in Australia. Thousands and thousands of people from all over Australia flock to Flemington Racecourse in Melbourne to watch the races. If people cannot watch the races live, they will often stop what they are doing around the time the race starts, and they will watch it on television or listen to the radio. Melbourne Cup Day is a public holiday for the Melbourne metropolitan area, and is Australia's major horse racing event. It is a great excuse to get dressed up in your best gear and have fun!
---
🐎 The Melbourne Cup Carnival Dates 2021
| | |
| --- | --- |
| VICTORIA DERBY DAY | 30th Oct 2021 |
| LEXUS MELBOURNE CUP DAY | 2 November 2021 |
| KENNEDY OAKS DAY | 4 November 2021 |
| SEPPELT WINES STAKES DAY | 6 November 2021 |
---
What to take for a perfect Picnic on Melbourne Cup Day
Be prepared for Melbourne weather! Keep up to date with the weather forecast – is it going to be cold, wet, or sunny?
Here are some ideas on what you could take for a perfect picnic on the lawn or in the carpark:
Rubber backed picnic rugs.
Finger food packed in sealed containers.
Cool drinks and plastic cups…
Coffee in a Thermos.
Plates and Napkins,
Sunblock, Umbrella
🦐 Tasty Food Ideas for Melbourne Cup Day
Chicken Sandwiches
Mix the chicken with your favorite mayonnaise and spread on fresh bread. Cover with a damp tea towel to keep the moisture in.
Prawns
Fresh, peeled prawns are the best. Remove heads, tails and veins and serve with your favorite mayonnaise or seafood sauce.
Californian Rolls
Make your own or buy some – chopped into bite size bits.
Small Quiche's
Easy to make – ready made shortcrust pastry sheets cut up and placed in muffin/cake trays – put small amounts of your favorite filling – chopped mushrooms, sundried tomatoes, bacon cheese etc. and pour over beaten egg and cream to cover. Bake in the oven till golden brown.
Fresh Fruit
Strawberries, Blue berries, pineapple, watermelon chopped up into bite size bits.
---
---
👠 Ladies.Will you be wearing high heels this spring carnival season?
To reduce the pain you will feel at the end of a day in high heels, make sure you stretch your calves!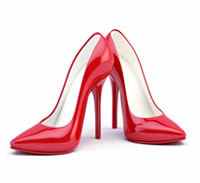 Here is an easy stretch:
1. Stand facing a wall
2. Pretend that you are pushing the wall with one foot in front of the other, but make sure your back foot is flat on the floor
3. You should be able to feel a stretch in your calf of the back foot. If you can't, slide your back foot a little bit further from the wall until you can feel that stretch
4. Hold this stretch for 30 seconds and repeat on the other side
🏆 History Of The Melbourne Cup
The first ever Melbourne Cup was held on Thursday, November 7, 1861. The winner of the first ever Melbourne Cup was a horse by the name of Archer, a hand bay stallion. The horse was ridden by a rider by the name of John Cutts.
Seventeen horses raced in the first ever Melbourne Cup, and the first place prize money was around $900.
In 1985 the first ever million dollar cup took place, with the winner of the race taking home $650,000 in cash. Today there are millions of dollars in cash prizes and usually jockeys who place in the top 10 will get some of the prize money.
The Cup is held on the first Tuesday of November, and is considered a public holiday for federal servants and people who work within Melbourne and the metropolitan area, as well as some parts of Victoria.
Melbourne Cup Day was first declared a holiday back in 1877, but it was not until 2008 that the day became a public holiday for all council areas in the state of Victoria.
🐎 Winners Of Past Cups
Winners of recent Melbourne Cups include Rekindling in 2017, Almandin in 2016, Prince of Penzance in 2015 (First woman jockey to win the cup – Michelle Payne ), Protectionist in 2014, Fiorente in 2013, Green Moon in 2012, Dunaden in 2011, Shocking in 2009, Viewed in 2008, Efficient in 2007, Makybe Diva in 2003, 2004 and 2005 and Media Puzzle in 2002.
Other famous horses that have won the Melbourne Cup include Phar Lap in 1930, Peter Pan in 1932 and 1934, Rain Lover in 1968 and 1969, Think Big in 1974 and 1975 and Let's Elope in 1981.
🥳 How to Celebrate The Melbourne Cup
Australians often throw house or office parties to celebrate the Cup. They will often dress up in all types of dresses and hats, and they will usually hold fancy hat and dress competitions.
Many people from all over Australia will usually place a small wager on the races, and this includes people who never would bet normally.
Many Australians hold a barbeque or a cookout the day of the Cup, as long as the weather permits. Once the Cup is finished, many people tend to go to their local bar or night club to continue celebrating the Melbourne Cup.
Not many people know this but fashion has also grabbed a lot of headlines on the day of the races. For example, the miniskirt became very popular worldwide after a model wore one to the Cup back in 1965.
People from all over the world attend the Cup, but the majority of tourists come from Australia and New Zealand.