Halloween in Australia is on Monday 31 October 2022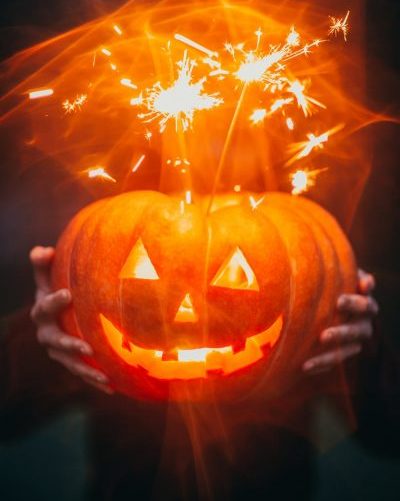 Halloween is not a public holiday in Australia but a celebration that is becoming more and more popular. Any excuse for a party really!
About Halloween in Australia
Halloween has been celebrated in America and the United Kingdom for many years. The celebration of Halloween in Australia is something fairly new – and you will find plenty of ideas to have a party, dress up, and have a bit of fun.
Children gather together with groups of friends and dress up and have Halloween parties, share scary stories and watch horror movies. They dress up in costumes such as witches, ghosts, vampires, devils, celebrities, zombies or something else. They knock on their neighbours doors and yell, " Trick or Treat" when the door opens. If they are lucky and the owner of the house is prepared with halloween, treats and lollies are then given to the children.
Halloween in 2022
If you are limited in your movements because of restrictions where you live  you can still have fun getting yourself and house decorated this Halloween. You may or not be able to do "Trick or Treat" this year, but you can still decorate inside and outside your house, watch spooky scary movies, make halloween  sweets and goodies and do some pumpkin carving.
How to avoid getting COVID-19 this Halloween?
Follow the guidelines/ rules of any restrictions that are in place for your location.
Avoid crowds, and stay away from big indoor/outdoor parties
Keep up the good hand hygiene
Wear masks
Trick or treating – Contain to small groups of  children
Handing out treats is best kept it to one adult only, and this is not the year to put a big bowl out for children to help themselves!
Don't eat treats that are not in their original packaging.
Sanitise, sanitise and keep your hands clean.
Trick or treat tips?
Always go in a group with a responsible adult in charge
Only knock on doors of people you know
Don't play tricks that are dangerous or that could cause damage.
Halloween fun in Lockdown
If you are in a state of Australia that has restrictions or curfews you may need to rethink how you are going to celebrate Halloween. You can still dress in Halloween costumes, carve pumpkins, play games and decorate your home.
🤡 Watch scary movies
🍯 Make Halloween party themed food
🎃 Decorate your home. Buy Your Halloween Supplies Online
🔍 Organise a Zoom or facetime Halloween get together with your friends
👻 Help the kids dress up, hide small treats around the house and have them go search for them in the dark
🍭 Have a "Treat" hunt in the house or backyard. Fill burlap drawstring Halloween bags/decorated Halloween bags with treats and then attach them to glow sticks and hide around the house/ back yard for them find. Dress up in Halloween costumes and go on a hunt for the "Treats".
🍿 Deliver pre-packaged sweet bags to friends houses in the neighbourhood with a sticker on saying who the sweets are from so friends know where they've come from. That way kids can get dressed up and go round to post them through the letter box.
Make up little packages with Halloween wrapping paper, or bags containing lollipops, and other  sweets with a wrappers.
Halloween Costume Ideas
Part of the fun of Halloween is dressing up. A visit to a party or costume shop or Buy Your Halloween Supplies Online – this will give you plenty of ideas on what to dress up in.

🧙 Witch- long black robe, tall black pointed hat, false nose and fingernails and a broom.

👻

Ghost – An old white sheet with holes cut out for eyes

🧛

Vampire – false vampire teeth, fake blood
💀 Skeleton – Use your imagination!
🐈 Black cat – Black tights, a black top and some cat ears – with your face painted like a cat.
👿 Devil – Dress in red with a devil mask and horns.
💋 Celebrity – From Elton John to David Cameron, the top celebrities are often impersonated by people celebrating Halloween.
🧟 Zombie – Dress in old ripped up clothes. Use makeup to paint your face a sickly-looking shade of white, grey, purple, or green. Make the hollows of your face darker colors, mess up your hair. Apply fake blood to your face, head, and body to create the look of wounds.
🎃 Jack-o-Lanterns – How to Carve and Hollow Out a Pumpkin For Halloween
Halloween night just would not be the same without the great pumpkin carvings and creations that people create. Jack-o-Lanterns are really great to look at , but  how it is done?
First and foremost, any pumpkin carving should only be carried out by a capable and responsible adult. The youngsters can join in with the hollowing out process, but the rest must be done by an adult.
Choosing a Pumpkin for Halloween
When choosing your pumpkin be select one that is firm and not soft or on the turn, try and get it as big as possible, but not too big to carry. Bigger pumpkins just look better when they glow by having a candle or tea light light placed in them. It is always a good idea to get a couple of extra small ones as well to practice your pumpkin carving on.
Once you have the pumpkin of choice you might want to give it a bit of a clean, taking care not to damage it. You will clean it again once it has been carved out.
Pumpkin face design is next. You can use books or even look on the internet for inspiration. See video below for some ideas on face designs for your pumpkin:
Once you have a face design for your pumpkin draw it onto a piece of paper or print it out.
🔪 A Sharp Knife to cut the Pumpkin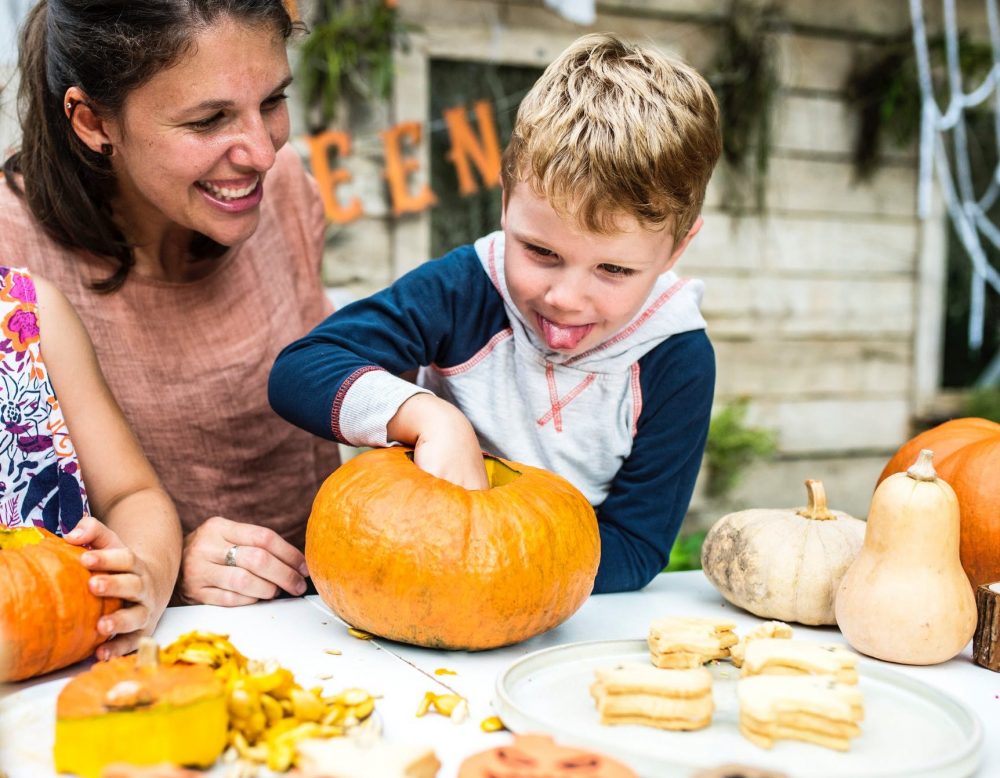 Now this is where the adult part comes in, using a very sharp knife or modelling knife carefully slice the top of the pumpkin off (making sure it is enough so that you will be able to easily fit your hand inside it once it has been hollowed out), but do not throw the top away.
The children can now help to hollow out the pumpkin either by the use of their hands or a spoon. There are many uses for the seeds etc so there is no need to throw them away. The pumpkins interior is extremely good as it contains zinc, protein, as well as other vitamins, it is even said that it can lower cholesterol.
Have a look on the internet for recipes' such as roast pumpkin or pumpkin pie. The seeds are also a great source of magnesium and phosphorus.
🎃 Sketch a Halloween face on your pumpkin
Wipe the pumpkin down again once the entire contents have been removed. By using a felt tip pen sketch the chosen Halloween face on by copying it from your sketch, drawing or print-out.
With a sharp knife slowly cut out the shapes that make up the face. Once you have completely cut out the face and are happy with your design, wipe down again. At this point you can now place the pumpkin where you intend it to stand.
Lift the lid off and place a tea-light type candle inside and light it. Place the top back on and dim the lights. You should now have a perfect professional looking Halloween jack-o-lantern that you should be proud of.