FORMULA 1® AUSTRALIAN GRAND PRIX
Due to be held at Melbourne's Albert Park Grand Prix Circuit and listed on the 2021 FIA Formula 1 World Championship™ calendar for 18-21 March, the 2021 Formula 1® Australian Grand Prix will now be staged from 18-21 November*.
The Australian Formula 1 Grand Prix
The Australian Grand Prix on the F1 circuit is a truly exciting event. With over 300 thousand spectators taking in the sights and sounds of each annual event, this 58 lap thriller is a great source of entertainment for everyone.
The Australian Grand Prix has been in existence since 1928 however the race was included as a round on the Formula 1 Championship since 1885.
The race moved to Melbourne in 1996 after the previously being held in Adelaide. The Adelaide Street Circuit held its last Formula One race in 1995.
Although it had been held in Adelaide till 1995, the race switched venues to Melbourne in the following year and has been held there ever since. This move sparked outrage in the country by a couple of environmentalist foundations which argued that the circuit interfered with public park property. With time however, it was determined that the move was an economically sound venture.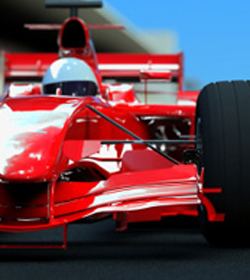 While at Adelaide, the race was usually the last of the season and on two occasions, it decided the overall winner. The nail biting race determined how the standings looked at the end of the racing season. This unforgettable feeling has been immortalised on the history books and they have the Australian Grand Prix to thank. After moving to Melbourne, the race kicks off the Formula 1 season each year.
Australia has a rich history of racing greats so it comes as no surprise that one of the best drivers on the Australian circuit is a native. Lex Davison has won the race a total of 4 times in the 1950's, a feat that no other Australian has ever achieved. This casts a shining light on the Australian motorsport sector and advertised the talent and prowess it offers.
The only modern day driver to rival the performances of Lex Davison is the phenomenal German driver Michael Schumacher. He too has won 4 times on the Australian Grand Prix, at the peak of his career, he made a habit of winning everything in his path and the Melbourne leg of the season was no different. He last won it in 2004 and soon after retired from racing. The dominant German driver is long regarded the best modern day Formula 1 racer to have ever graced the sport and he often used the Australian Grand Prix to strategically set himself up for a successful season.
Winners of recent Australian Grand Prix's:
| | | |
| --- | --- | --- |
| 2020 | Cancelled due to COVID19 | |
| 2019 | Valtteri Bottas | Mercedes |
| 2018 |  Sebastian Vettel | Ferrari |
| 2017 |  Sebastian Vettel | Ferrari |
| 2016 |  Nico Rosberg | Mercedes |
| 2015 |  Lewis Hamilton | Mercedes |
| 2014 |  Nico Rosberg | Mercedes |
| 2013 |  Kimi Räikkönen | Lotus-Renault |
| 2012 |  Jenson Button | McLaren-Mercedes |
| 2011 |  Sebastian Vettel | Red Bull-Renault |
| 2010 |  Jenson Button | McLaren-Mercedes |
| 2009 |  Jenson Button | Brawn-Mercedes |
| 2008 |  Lewis Hamilton | McLaren-Mercedes |
| 2007 |  Kimi Räikkönen | Ferrari |
| 2006 |  Fernando Alonso | Renault |
| 2005 |  Giancarlo Fisichella | Renault |
| 2004 |  Michael Schumacher | Ferrari |
| 2003 |  David Coulthard | McLaren-Mercedes |
| 2002 |  Michael Schumacher | Ferrari |
| 2001 |  Michael Schumacher | Ferrari |
| 2000 |  Michael Schumacher | Ferrari |