Australia day is celebrated in every state of Australia.
Friday 26 January 2018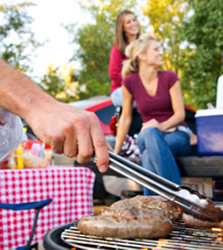 Its great to be Australian and on this public holiday there are plenty of events held around the country to celebrate. Australia Day is an official public holiday in every state of Australia with Australians attending citizenship ceremonies, music festivals, the Cricket or BBQs with family and friends.
If you are planning a get together on Australia Day some old Aussie favorites to include on your menu could be … a roasted leg of lamb, meat pies and Sausage rolls – home made or bought ( party pies for nibbles), damper, Prawns on the BBQ, T-Bone Steak, lamb chops and Sausages on the BBQ, Beef burgers with the lot, and for desserts a pavlova, lamingtons, or vanilla slice.
With so many public holidays in the first 6 months of the year, it's the perfect opportunity to go on another holiday or get away for a few nights and remove yourself from the daily grind.
---
---
Australia Day Events
On Australia Day, 26 January, we come together as a nation to celebrate what's great about Australia and being Australian. On Australia Day, over half of the nation's population of 21 million attend either an organised community event, or get together with family and friends with the intention of celebrating our national day. Get out and celebrate being Australian today!
http://www.australiaday.org.au/australia-day/
---
Australia Day Events in Melbourne
OFFICIAL FLAG RAISING CEREMONY
Friday 26 January 2018, 10.30 – 11.00am
Melbourne Town Hall, Melbourne.
The Official Flag Raising Ceremony marks the beginning of Melbourne's Australia Day celebration. Attended by the Governor of Victoria, the Premier of Victoria,  the Lord Mayor of the City of Melbourne and other dignitaries, the Official Flag Raising ceremony features an inspection of the Tri-Service Royal Guard of Honour, the Australia Day Affirmation and the singing of the Australian National Anthem.
Friday 26 January 2018, 11.00am – 11:45am
Swanston Street, Melbourne CBD
Immediately following the Official Flag Raising Ceremony, spectators will be treated to a vibrant public display of our diverse community with more than 1,000 participants from over 80 community and cultural groups taking part in Melbourne's annual Australia Day Parade.
Nurture a sense of belonging by cheering on participants from a range of multicultural dancing and music groups, sporting and cultural associations, cosplayers and more!
RACV AUSTRALIA DAY FESTIVAL IN KINGS DOMAIN GARDENS
Friday 26 January 2018, 11.00am-4.00pm
Kings Domain Gardens, Melbourne
The RACV Australia Day Festival in Kings Domain Gardens is a long-standing Australia Day event in one of Melbourne's beautiful city gardens. This much-loved event is held after the Australia Day Parade, continuing the theme of togetherness and belonging with free family focussed activities, displays from a broad range of community groups and the 2018 RACV Australia Day Heritage Vehicle Showcase.
Foodies will enjoy vibrant street food and a festive atmosphere in our Food Truck Park, and families will love our main stage program complete with kids yoga, bands and our headline act, Peppa Pig.
AUSTRALIA DAY AT DOCKLANDS
Friday 26 January 2018, 6.00 – 9.30pm. Fireworks at 9:00pm.
Harbour Esplanade, Docklands
Finish your day at our fireworks spectacular down at Docklands!
Located along Harbour Esplanade, the Australia Day at Docklands celebration will keep the family entertained with roaming artists, entertainment and Melbourne's most loved food trucks, with the event culminating in a spectacular fireworks display at 9.00pm.
Attracting 16,000 people in 2017, the Australia Day at Docklands celebration and fireworks is one not to be missed.
---
Advance Australia Fair
Verse 1
Australians all let us rejoice,
For we are young and free;
We've golden soil and wealth for toil;
Our home is girt by sea;
Our land abounds in nature's gifts
Of beauty rich and rare;
In history's page, let every stage
Advance Australia Fair.
In joyful strains then let us sing,
Advance Australia Fair.
Verse 2
Beneath our radiant Southern Cross
We'll toil with hearts and hands;
To make this Commonwealth of ours
Renowned of all the lands;
For those who've come across the seas
We've boundless plains to share;
With courage let us all combine
To Advance Australia Fair.
In joyful strains then let us sing,
Advance Australia Fair.
Australian national Anthem – choir, Australian imagery, no lyrics, two verses
Sam Kekovich Australia Day 2016 | Australia Day Lamb 2016 | Commence Operation Boomerang
Aussie Pavlova Recipe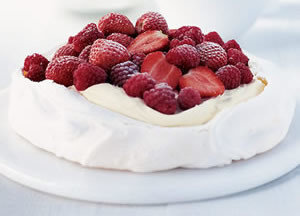 The pavlova is a simple easy to make dessert that Australians love. Decorate with whipped cream and your favorite topping.
8 egg whites
3 cups sugar
2 teaspoons vanilla
2 teaspoons vinegar
2 rounded dessertspoons cornflour
1) Line a baking tray with baking paper.
2) Place egg whites (dont let ANY egg yolk get in your whites – use 2 teacups and separate eggs one at a time then add the egg whites to the bowl !) in a warm DRY basin and beat until they stand in peaks.
3) Gradually add half the sugar adding it to the mixture a dessertspoonful at a time.
4) Sift the remainder of the sugar into the mixture and fold in lightly , then quickly add the cornflour, vinegar and vanilla.
5) Spread in an even circle on the tray and bake in a slow oven for about 1 ½ hours. If you want a crispier crust on the pavlova you can increase the oven temperature and cook it for less time. When you do this the outside is crisp and the middle of the pavlova takes on a "marshmallow" consistancy.
6) Decorate with whipped cream and strawberries/cherries/blueberries OR Grated Peppermint Crisp Chocolate bar/ peppermint sprinkle topping
Australia Day Scones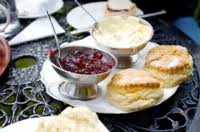 3 cups self-raising flour
1 egg
1 cup lemonade
1 cup cream
1) Preheat oven to 220 degrees.
2) Add lemonade and cream to flour and mix to form a soft dough.
3) Place dough on a floured surface.
4) Knead dough to 2cm thickness and cut with a floured cutter.
5) Place close together on tray, brush with beaten egg and bake for 10-15 minutes.
6) Serve warm Serve with Raspberry or Strawberry Jam & Freshly Whipped Cream